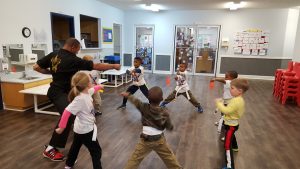 All Star Karate offers a way to enhance your student's discipline, safety, and character all while being FUN! Our program teaches respect for teachers, parents, siblings and friends with a curriculum designed specifically for their age groups. Students learn in an organized class format with a different aspect of focus for each weekly lesson.
Classes are taught at the daycare facility by a certified instructor with state and national background checks; no travel needed! In addition, we also offer a parent viewing class at our facility so that parents can see the benefit of our program once a week at their convenience.
This service is provided at no extra charge.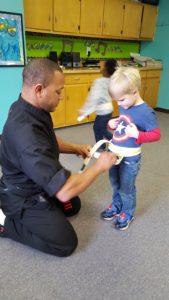 Our classes stress the importance of self defense and teaches that martial arts is not for hitting friends, family, and classmates. Students have no physical contact with each other.
Our goal is to work with community organizations that help shape minds and promote a healthy, active lifestyle while providing a service to families that have otherwise overbearing schedules.
Call today to see how our program can best meet your needs.
Our course participants enroll at just $50 per month, with a $10 discount for siblings. With an enrollment of 10 or more students, All Star Karate contributes a monthly donation to your daycare program.
Details of the classes are as follows:
Frequency: One class per week at your school, plus one parent viewing class per week at our location 875 Oak Road, Lawrenceville, Georgia 30044.
Age requirement: 3 years and up.
Class Limit: 15. If more than 15 enroll, classes will be split into 2 days per week.
Class length: 40 minutes
Focus: One Character Education lesson every week, such as Courtesy or Honesty, and one Karate Skill, like Speed or Agility.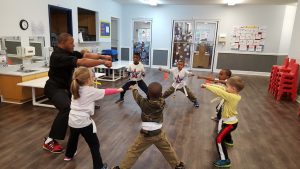 Students earn their white belts in class, and work to achieve four stripes. After their fourth stripe, they are eligible to test for their next level belt and certificate.
Pricing
First Student$50 per month
Second Student$40 per month